Home

Gallery


Cocoons




Yarn Gauges




Facebook
Cyndi the Weaver


Etsy Shop
cynditheweaver





West Virginia
Art & Craft
Guild


Tamarack,
the Best of
West Virginia


our-wv.com
A new marketing site for WV artists.


Mills Family
Cemetery
Lots of nice scenic
and historic images


Tri-State Art and Craft Show - 2012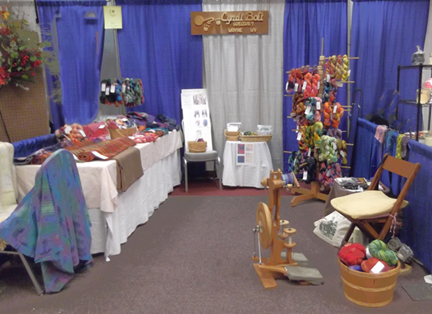 Here is the scene at this year's Lions Club show. This is the first year I've given a demo on
spinning which went well. I finished spinning and plying one ball of roving, and spun a
second one, unplyed as yet. See...,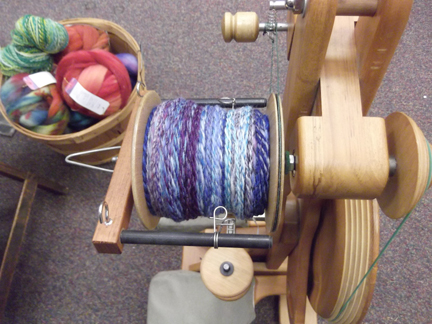 If the booth looks a little bare vertically, my shawl rack broke it's foot during setup and was
unusable. Which is why the cocoon is "hung" on the back of a chair...,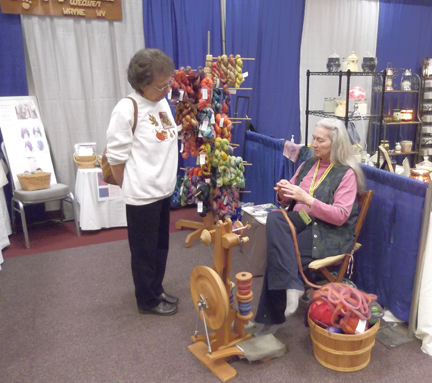 Here I am, explaining something to a show visitor. I have no idea what. I was
pre-drafting the roving before I spun it. This pink one is the second roving.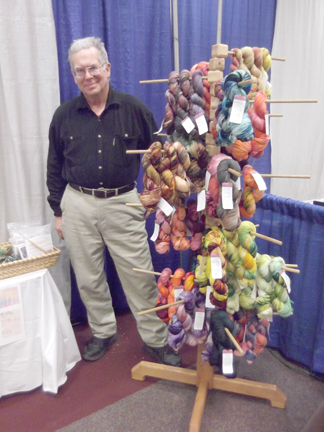 And here is Bruce Bannerman who came down to see me and the Yarn Tree
he made for me. The Yarn Tree is always reliable and the feet don't break!
Holds a lot of yarn too.
- - - - - - - - - - - -

Mountain State Art and Craft Fair 2012 - July 5 - 7




Here is this year's MSACF booth. New Yarns are on the left. New shawls on the right.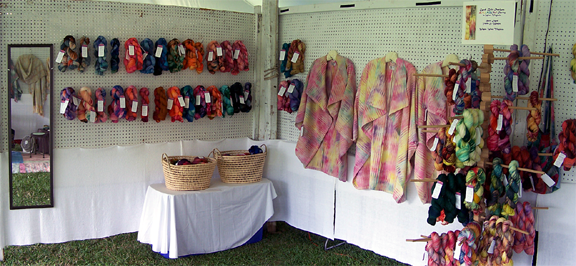 Here is a better view of the left side. The image has a greenish color cast, caused by sunlight through
the tent fabric. Nice view of the shawl in the mirror.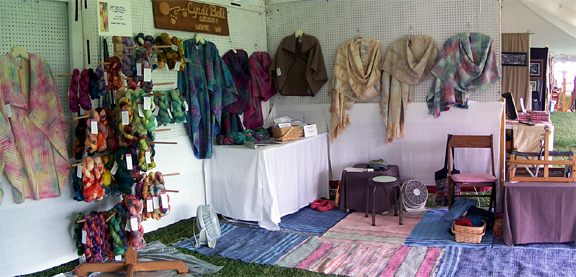 . . . and here's the right side, with the loom set up for demonstrations.
- - - - - - - -
New Work - Late Spring 2012

This warp is an attempt to use up some of the unused materials on the shelf. I used three left-over coordinating warp chains in yellows, oranges, gray, stone, natural. They were long with 1/1 crosses at either end so I could double them to make two shorter lengths, equaling 6 of the needed skeins.

The thin stripes are yarns from the solid/multicolor yarns on the shelf, used to fill in to get the number of ends of warp I needed to make the width of 30 inches and 24 ends per inch. 720 ends.

The fabric being woven is a wool-silk, bluey oatmeal in color. It is destined to be a shawl. Click the images for larger views of the fabric.

This colorway will be available at the Mt State Art and Craft Fair in Ripley this

July 5, 6, & 7th

.


- - - - - - - -
Winter 2011 - 2012

This warp is of hand dyed 10/2 cotton. The weft is a black shetland wool. I plan to full the cloth by machine. It should shrink in width and plump up fuzzily. I think it would make a good fabric for winter garments - some of the warmth of wool, yet the durability of the cotton warp. The warp pattern is Twill Complication, woven straight.
Mountain State Art and Craft Fair - Summer 2011


The Mountain State Art and Craft Fair of 2011 had good weather. Sales were reasonably good, given the economy. We were all grateful for No Rain!